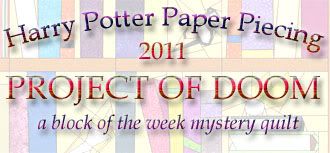 Week Eight is upon us! I want to thank you all for the wonderful ride we've had so far. Seeing your photos each week is so inspiring for me and just keeps my creative juices flowing!
A recap from this week's Tuesday Photos:
For those new to the
Project of Doom
, here are a few things to keep in mind: The PoD is a Harry Potter Block of the Week that is completely, absolutely, 100% free for personal and non-profit use. All patterns have been designed and tested by me, Jennifer Ofenstein, aka
ofenjen
. Who am I and why do I love Harry Potter? Here's a video I filmed last July where I talk about
My Harry Potter Story
. Need more? Visit
Sewhooked
.
Several of you have asked if I have a Master Plan. YES, there is indeed a Master Plan to the PoD! I designed the entire quilt, patterns, layout, etc., in 2010. You don't have to worry that I'll lose my mojo half-way through or have "quilter's block" because the patterns are already done!
Reminder: If you DO NOT want to see the block before you make the pattern in order to keep it a mystery, please do not click on the cut! If you leave a comment, you will be taken behind the cut and will see the block...just FYI!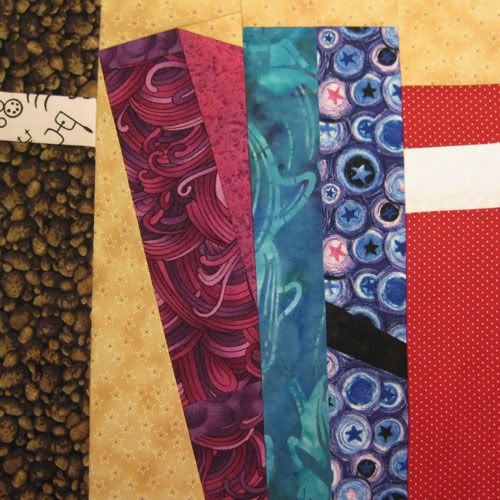 This week, we have some required reading, yet another opportunity to plunder your stash for fun and unusual fabrics! Next week, our block will be just a bit different. I think you'll like it!
List of books from Harry Potter
Previous Patterns:
Links go straight to posts including block samples. If you do not wish to see photos of the blocks, click this link for previous posts.


Golden Quilter Award
Have a favorite quilt teacher, author, designer, etc.? You can nominate them for the SewCalGal's Golden Quilter Awards! Nomination deadline is March 15, 2011.
Just a reminder, the
Member's Only Friendshipe Meme
is ongoing! Sign up for a free Livejournal account and "join"
hp_paperpiecing
to participate. Right now, LJ is offering a
free trial
so you can give a paid membership a spin for no cost (no ads, more user icons!).
Happy quilting...I'll see you next week!