hp_paperpiecing
. This year, I went back to work part-time as well as created my own pattern company, turning
Sewhooked
into more than just a website, but my brand as well. The generosity and creativity of
Guest Designers
old and new has allowed me to keep this community moving forward as more and more new quilters take up the challenge of creating their own Harry Potter quilts!
2010 was the second year of
ttmt
, crafty Show and Tell posted each week on YouTube by myself and lots of other crafty vloggers, many of which are
hp_paperpiecing
members and Guest Designers, meaning there is never a shortage of Harry Potter or quilty goodness!
2010 saw
Complete Your Quilt Top
and
Shrinking Solution
challenges. Complete Your Quilt Top resulted in the most EVER completed tops posted on
hp_paperpiecing
in one year!
2011 marks five years since I first started designing and sharing Harry Potter paper pieced patterns online. It's incredible to think what being part of the HP fandom has done for my life. So many of my friends, people I consider indispensable to my life, were found through fandom and my existence as a quilt designer owes everything to Harry Potter and the response I have received from the fandom since 2006.
As a Thank You to all my crafty and quilty friends for being so amazingly supportive and enthusiastic about
hp_paperpiecing
, I am proud to officially announce the Project of Doom, my gift to you, and my final Harry Potter quilt design.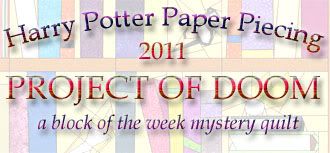 The Project of Doom is a complete quilt top, presented as a Block of the Week (BOW) Mystery Quilt. We'll be starting on Wednesday January 12, and new patterns will be posted on subsequent Wednesdays, just as they have been in the past. If all goes as planned, the Project of Doom will last for approximately 32 weeks, give or take a few weeks for unexpected absences.
The Project incorporates both existing blocks and new designs for one big, and I hope, AWESOME quilt! Each week's block will be 10 1/2" unfinished. The approximate finished size is 60" x 76".
Some notes about fabric - You will need the same background fabric throughout the entire quilt, and I recommend something neutral, a tone on tone beige, gray or similar, that will make the block designs stand out. The working estimate for the background fabric is 2 1/2 yards (considering getting 3 yards, just for good measure!). That leaves a lot of wiggle room for mistakes and hopefully room for your own style of paper piecing. All other fabrics for the actual blocks will be small amounts and they will change with each week's block. Hopefully, those are things you'll be able to pull from your stash. This quilt will use approximately 1 yard of sashing fabric and 1 yard of border fabric, but I recommend you wait on that until you see how your blocks turn out to decide what you want.
Do you have to be an
hp_paperpiecing
member to participate? No, but you do need to be a member to enter to win the monthly participation drawing. There will be more on that after the new year.
Are you excited? I am! If you have questions, please do ask them. I'm sure I've missed something!
Share the Project of Doom!
Tuesday Photos
pieced by
sonja2181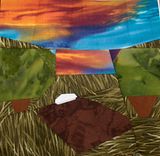 pieced by
suziecurls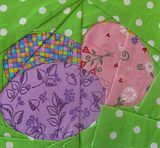 Monthly Prize WINNER!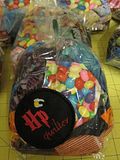 actual fabric included and badge shape may vary
The last monthly prize of 2010 goes to
sonja2181
!
Congratulations!
All winners are chosen using random.org
.
Sonja, I have your address, and will be mailing your package as soon as the holiday rush at the post office has ended. Thanks so much to every single person that has contributed to Tuesday Photos this year!
Have a wonderful, safe holiday season and end of 2010! I can't wait to see you next year!
It has been an amazing year of sharing and creativity here on